Chocolate cinnamon zucchini bread
Chocolate cinnamon zucchini bread is moist, chocolaty and actually good for you. What's not to love?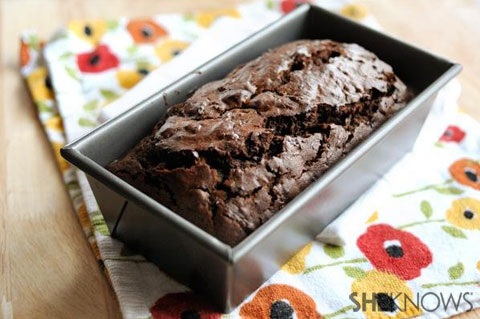 Chocolate cinnamon zucchini bread
Makes 8 servings
Ingredients:
1 cup all-purpose flour
2/3 cup whole wheat flour
1/3 cup cocoa powder
1-1/2 teaspoons ground cinnamon
1 teaspoon salt
1/2 teaspoon baking powder
1/2 teaspoon baking soda
3/4 cup brown sugar
1/2 cup vegetable oil
2 whole eggs
1 tablespoon vanilla extract
2 small zucchini, washed and shredded
Directions:
Preheat oven to 350 degrees F and grease an 8 x 4-inch loaf pan.
In a large bowl, whisk together the brown sugar, oil, eggs and vanilla until smooth and creamy.
Sift together the flours, cocoa powder, cinnamon, salt, baking powder and baking soda.
Fold the dry ingredients into the wet ingredients until just mixed.
Add the zucchini and stir into the batter until everything is well combined.
Pour the batter into the prepared loaf pan.
Bake for 45 to 65 minutes until a toothpick inserted comes out clean.
Let cool completely before serving.
More divine zucchini bread recipes
Pear zucchini bread
Blue ribbon zucchini bread
Applesauce zucchini bread