Roasted tomatillo salsa
Roasted tomatillo salsa is one salsa you'll want to make in bulk. Inexpensive, beautiful and delicious, this is one recipe you will want to share.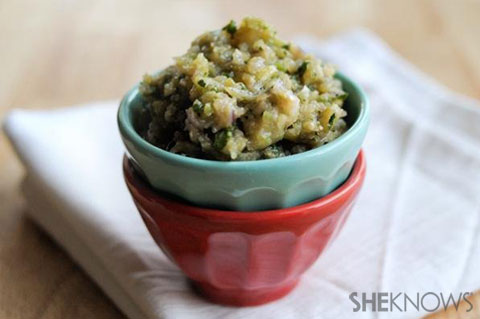 Roasted tomatillo salsa
Serves 4-6
Ingredients:
1 pound fresh tomatillos
1 tablespoon olive oil
1/2 small red onion, chopped
2-3 cloves garlic, roughly minced
1 jalapeno pepper, washed and chopped roughly
1/2 bunch cilantro leaves, washes and dried
Salt and pepper to taste
Directions:
Preheat oven to 400 degrees F.
Drizzle a baking sheet with the olive oil.
Remove the husks from the tomatillos and wash with warm water to remove the sticky residue.
Quarter the tomatillos and place on the baking sheet.
Toss with the olive oil.
Roast the tomatillos for 20 to 25 minutes, stirring halfway through, until tender.
Let cool for about 5 to 10 minutes.
Combine all ingredients in a food processor and pulse until desired consistency is reached.
Season with salt and pepper to taste.
More favorite salsa recipes
Pumpkin salsa
Pineapple-mango salsa
5-Minute canned tomato salsa