Loaded baked cauliflower soup
Loaded baked cauliflower soup is a low-carb and delicious way to fit even more veggies into your diet. Roasted cauliflower is pureed with delicious stock and then topped with green onions, bacon and cheese for a flavorful finish.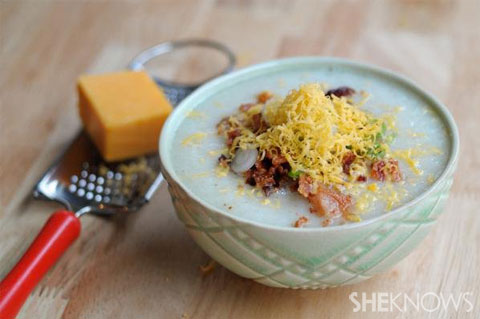 Loaded baked cauliflower soup
Serves 4-6
Ingredients:
2 pounds cauliflower florets, fresh or frozen
2 tablespoons olive oil
1 tablespoon salt
1/2 tablespoon pepper
4 cloves garlic
6 cups chicken or vegetable stock
6 slices bacon, crisped and crumbled
1/4 cup sliced green onions
1/2 cup shredded cheddar cheese
Directions:
Preheat oven to 400 degrees F.
Drizzle the cauliflower and garlic cloves with the olive oil, then sprinkle evenly with salt and pepper.
Toss to coat.
Spread on a large baking sheet and roast for 20-25 minutes, stirring 3-4 times in between, until the cauliflower is caramelized and the garlic is golden.
Working in batches, add about 1/3 of the cauliflower mixture into a high-speed blender with about 1/3 of the stock.
Blend until completely pureed.
Repeat until all of the cauliflower is pureed.
Pour the puree into a large stock pot and add a little water if necessary to reach desired consistency.
Keep warm over low heat until ready to serve.
Serve hot with bacon, green onions and cheese as desired.
More decadent cauliflower recipes
Gluten-free cauliflower pizza crust
Creamy cauliflower Alfredo sauce
Cauliflower feta meatballs and spicy harissa tomato zucchini noodles