Peanut butter banana chocolate pops
Peanut butter banana chocolate pops are popable dessert bites your whole family will go nuts over.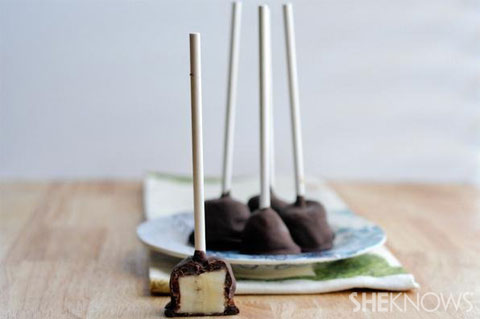 Peanut butter banana chocolate pops
Makes 12 pops
Ingredients:
2 large ripe bananas
12 sticks
1/2 cup creamy peanut butter
1 cup semisweet chocolate chips
1/2 tablespoon coconut oil
Directions:
Peel the bananas and cut each 1 into 6 pieces.
Stand the bananas up on 1 of the cut sides.
Gently press a stick into each piece of banana so that it resembles a lollipop.
Warm the peanut butter so that it is a thinner consistency, about 10 to 15 seconds in the microwave.
Line a baking sheet with parchment paper.
Dip each banana into the peanut butter, being sure to coat evenly on all sides.
Place the dipped bananas onto the parchment paper and repeat until all bananas are coated with peanut butter.
Place the dipped bananas in a freezer for about 10 to 15 minutes until the peanut butter has hardened.
When the peanut butter is hardened, microwave the chocolate chips and coconut oil together, 30 seconds at a time, stirring between each time, until the chips are all melted and the mixture is smooth.
Remove the bananas from the freezer, place a fresh sheet of parchment on the baking sheet, and then proceed to dip the bananas in the chocolate to cover the peanut butter.
Place the chocolate-dipped bananas on the clean parchment, and when all of the bananas are dipped return them to the freezer for 5 to 10 minutes until the chocolate has hardened.
Refrigerate until ready to serve.
More fun pop recipes
Carrot overload cake pops
Cake pops: Basketball style
Popcorn-shaped cake pops