Chili-coffee crusted burgers with avocado ranch
Delicious burgers are never hard to come by — just spice them up with a great rub and allow the spices to cook into the meat for a delightful take on a classic burger recipe. Topped with a quick and easy avocado ranch, this is one burger you won't want to miss!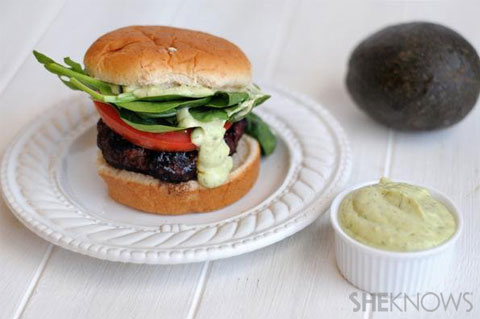 Chili-coffee crusted burgers with avocado ranch
Serves 4
Ingredients:
1-1/2 pounds lean ground beef
1 tablespoon instant coffee powder
1 tablespoon chili powder
2 teaspoons salt, divided
Nonstick spray
1 whole ripe avocado
1/3 cup sour cream
1/4 cup milk
2 teaspoons garlic powder
1-1/2 teaspoons onion powder
1/2 teaspoon dried mustard
1/2 teaspoon dried dill
1/4 teaspoon black pepper
Hamburger buns
Sliced tomatoes
Lettuce or baby spinach
Directions:
Preheat grill to 400 degrees F.
Divide the ground beef into 4 patties about 5 inches in diameter and 1 inch thick.
Combine the coffee powder, chili powder and 1 teaspoon of salt.
Press the coffee-chili blend onto the outside of the formed burgers.
Spray the burgers with nonstick spray and then grill for about 4 to 5 minutes per side until desired doneness is reached.
For the ranch, combine the avocado, sour cream, milk, remaining teaspoon of salt, garlic powder, onion powder, dried mustard, dried dill and black pepper in a food processor or blender and process until smooth.
To serve, slather the buns with the ranch and top with a hamburger patty, tomato and lettuce.
More unforgettable burger recipes
Bruschetta burgers
Jalapeno cheddar burgers
Spinach feta chicken burgers with rosemary mayo