Feta, kalamata and red onion-stuffed chicken breasts
The best of Greek flavors stuffed into chicken breasts and then cooked to tender perfection makes this one chicken recipe you'll never get bored of!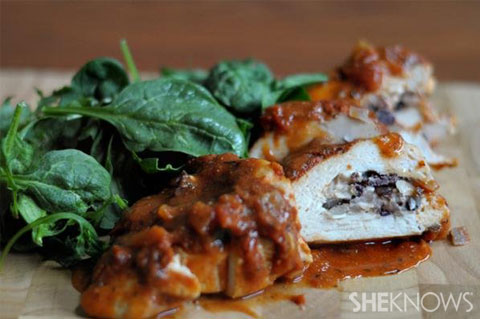 Feta, kalamata and red onion-stuffed chicken breasts
Serves 4
Ingredients:
4 (6 ounce) boneless, skinless chicken breasts
1/4 cup chopped kalamata olives
1/4 cup finely chopped red onion
1/4 cup crumbled feta cheese
1 teaspoon salt
1 teaspoon black pepper
1 cup jarred marinara sauce
Directions:
Preheat oven 400 degrees F.
Using a sharp knife, gently cut a slit in the thick part of each chicken breast, being careful not to cut all the way through. The slit should be about 2 to 3 inches long.
Toss together the kalamata olives, red onion and feta.
Stuff each chicken breast with the mixture and place in a 9 x 13-inch baking dish.
Sprinkle the tops of the chicken breasts with salt and pepper.
Evenly pour the marinara on top of the chicken breasts.
Bake at 400 degrees F for 20 minutes, then turn the temperature down to 375 degrees F and cook an additional 10 to 20 minutes until the chicken and the filling are both at 165 degrees F.

Let rest for 10 minutes before serving.
More stuffed chicken breast recipes
Spinach and feta stuffed chicken breasts
Goat cheese, apricot and sage stuffed chicken breasts
Mushroom stuffed chicken