Cauliflower and white bean soup with sausage
Healthy and satisfying soup isn't a myth; it can be your reality in a snap! Cauliflower and white beans are cooked and pureed together, then topped with slices of roasted Italian sausage.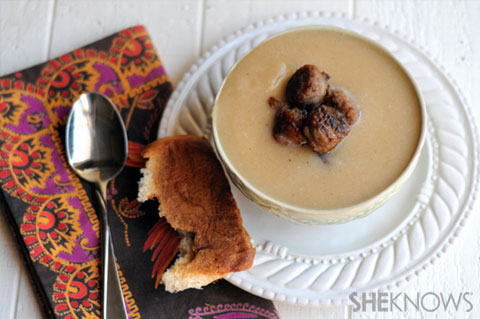 Cauliflower and white bean soup with sausage
Serves 6
Ingredients:
1 pound Italian sausage
1 whole white onion, chopped
2 cloves garlic, roughly chopped
1 (14 ounce) can Great Northern beans
6 cups chicken stock
2 teaspoons salt
1 teaspoon black pepper
1 (16 ounce) bag cauliflower florets
Directions:
Slice the Italian sausages into 1/2-inch thick medallions and place in a cold soup pot.
Heat the large soup pot over medium heat and render the sausage, stirring occasionally, until cooked through.
Remove the sausage with a slotted spoon and reserve 1 tablespoon of the drippings.
Toss the onion and garlic with the drippings and allow to cook for 4-5 minutes, until soft and translucent.
Add the beans, stock, salt, pepper and cauliflower.
Bring the mixture to a boil, then reduce the heat and simmer for 25 minutes.
Using an immersion blender blend the soup until smooth and creamy.
Serve hot with the sausage.
More recipes with white beans
Easy Parmesan white bean dip
White bean and corn chili
Warm white bean and arugula salad