Pesto roasted chicken
Pesto roasted chicken is one roasted chicken dish that delivers on the flavor. Be sure to have your butcher separate the skin and the meat to make this go-to even easier!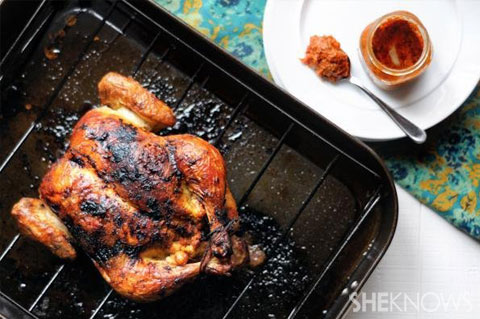 Pesto roasted chicken
Makes 1 whole chicken
Ingredients:
1 whole chicken, 4-5 pounds
1/2 cup prepared pesto of choice
2 tablespoons olive oil
2 teaspoons salt
1 teaspoon pepper
Directions:
Preheat oven to 425 degrees F.
Rinse the chicken and pat dry.
Using your fingers, gently separate the skin and the meat on the breasts.
Using a tablespoon of pesto at a time, gently press the pesto into the space between the skin and meat.
Drizzle the skin with olive oil and sprinkle evenly with the salt and pepper.
Place on a roasting rack and roast at 425 degrees F for 60 to 90 minutes, until the internal temperature reaches 165 degrees F.
Let the chicken rest covered with foil for 10 minutes before carving.
Serve hot.
More fabulous and simple roast chicken recipes
Asian roast chicken
Honey rosemary roast chicken
Stand-up roast chicken