Seared steak with red wine mushrooms
Seared steak with red wine mushrooms is a classically delicious dish with tons of flavor, perfect for Valentine's Day! Seared salty steak is complemented by earthy wine-braised mushrooms for a perfectly delicious and celebratory meal for mom!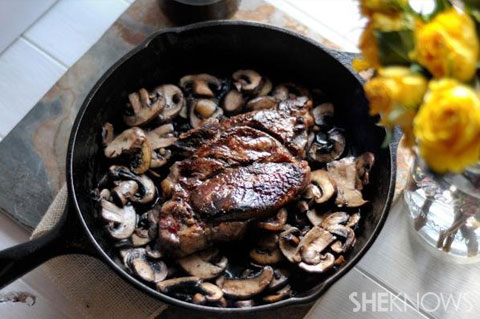 Seared steak with red wine mushrooms
Serves 2
Ingredients:
2 (6 ounce) New York strip steaks
1 tablespoon olive oil
1 pint sliced cremini mushrooms
1 tablespoon salt
1 teaspoon pepper
1/2 cup red wine of choice
Directions:
Preheat oven to 500 degrees F.
Heat a skillet, preferably a seasoned cast-iron skillet, over medium-high heat.
While the skillet is heating, sprinkle both sides of the steaks very liberally with salt and pepper.
When the skillet is very hot, lay the steaks directly onto the hot surface.
Sear for about 3 to 4 minutes per side, then move the steaks onto a baking sheet lined with foil in the oven.
Let the steaks finish in the oven, about 3 minutes for medium rare and about 7 minutes for well done.
While the steaks are cooking, add the olive oil to the hot pan and sear the mushrooms for about 4 to 5 minutes.
Add the red wine and stir to combine, then allow the mushrooms to simmer in the wine for about 4 to 5 minutes until tender.
Let the steak and mushrooms rest for about 5 to 10 minutes before serving.
Serve hot.
More fabulous Valentine's Day recipes
Cajun-style Valentine's Day dinner
Sexy vegan Valentine's Day dinner
Healthy Valentine's Day dinner