Creamy zucchini and potato soup
Here's a creamy vegan soup you can feel good about eating! Fresh zucchini and potatoes are pureed together with other fresh ingredients to make a creamy soup you can serve any guest.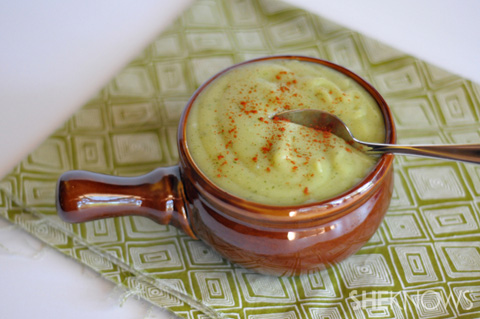 Creamy zucchini potato soup
Serves 6 hearty portions
Ingredients:
4 medium zucchini, washed and chopped roughly
2 large russet potatoes, peeled and chopped
1 large yellow onion, peeled and chopped
2 large cloves garlic, whole
3 cups vegetable stock
1 teaspoon salt
1/2 teaspoon pepper
1/2 teaspoon cumin
Directions:
Heat a large soup pot over medium-high heat.
Add the olive oil and all of the vegetables and toss to coat.
Cover and allow to cook for about 3 to 4 minutes.
Add the salt and pepper, toss to coat, and then stir in the vegetable stock.
Cover and allow to cook for another 15 minutes until all of the vegetables are very soft.
Working in batches, carefully puree the vegetables and stock in a blender or a food processor.
When the vegetables are all pureed, stir in the cumin.
Serve hot.
More healthfully delicious zucchini recipes
Herbed zucchini soup
Slow cooker cream of zucchini soup
Curried zucchini soup