Baked roasted garlic polenta fries
Baked roasted garlic polenta fries are a new take on the standard fry. Whip them together in the same amount of time it would take to bake those frozen french fries!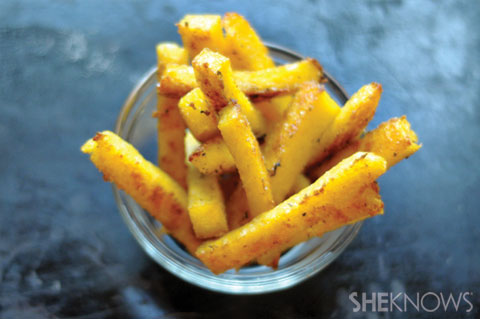 Baked roasted garlic polenta fries
Serves 4-6
Ingredients:
1 (24 ounce) tube roasted garlic polenta
1 teaspoon salt
1/2 teaspoon black pepper
Cooking spray
Directions:
Preheat oven to 475 degrees F.
Line a baking sheet with foil and spray liberally with nonstick cooking spray.
Cut the polenta into fries that are 1/2-inch wide, 3 inches long and 1/4-inch thick.
Lay the polenta fries on the greased baking sheet.
Sprinkle evenly with salt and pepper.
Spray liberally with cooking spray on top.
Bake for 15 minutes.
Gently turn the fries, using tongs, and then cook another 10 to 15 minutes on the other side until golden brown and crisp.
Serve hot.
More delightful polenta recipes
Vegan polenta cakes
Broccoli and gorgonzola polenta
Italian polenta casserole