White chickpea chili
White chickpea chili is the vegan answer to white chicken chili. All of the flavor and none of the guilt!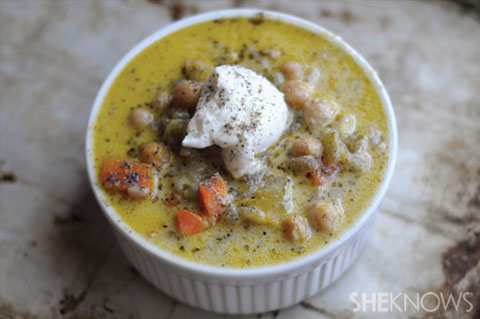 White chickpea chili
Serves 6
Ingredients:
2 tablespoons olive oil
1 whole onion, chopped
3 large carrots, chopped
2 stalks celery, chopped
3 cloves garlic, minced
1 teaspoon salt
1 teaspoon pepper
1 teaspoon cumin
2-1/2 cups cooked chickpeas
1 (10 ounce) can chopped green chiles
4 cups vegetable stock
1/2 cup plain soy or almond milk
1/2 cup plain soy yogurt
Directions:
Heat a large stockpot over medium heat.
Add the oil, onion, carrots, celery, garlic, salt and pepper and cook until vegetables start to become soft, about 5 to 7 minutes.
Add the cumin, chickpeas, green chiles and vegetable stock and stir to combine.
Bring the mixture to a boil, and then reduce heat and cover.
Simmer for 25 to 30 minutes.
Remove from heat and stir in the milk and plain yogurt.
Serve hot.
More hearty and satisfying vegan chili recipes