Chili-lime salmon
Chili-lime salmon brings out the amazing flavor of fresh salmon and adds a little kick of its own with delicious garlic and chili powder.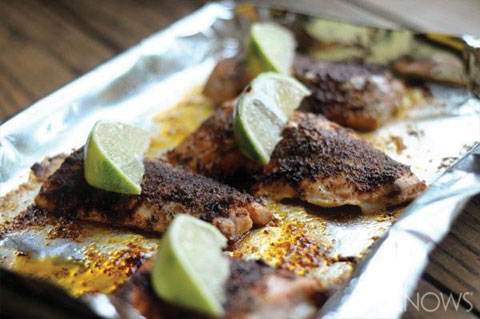 Chili-lime salmon
Serves 4
Ingredients:
1 pound salmon, cut into 4 filets
Lime zest from 1 lime
1-1/2 teaspoons chili powder
1 teaspoon sugar
1/2 teaspoon salt
1/4 teaspoon pepper
1 tablespoon olive oil
Directions:
Preheat oven to 500 degrees F and line a baking sheet with foil.
Place each salmon filet skin side down on the prepared baking sheet.
Blot each filet with a paper towel to dry the salmon.
In a bowl, combine the lime zest, chili powder, sugar, salt and pepper.
Rub the lime zest mixture into each salmon filet.
Drizzle all of the filets evenly with the olive oil.
Roast for 6 to 8 minutes just until the salmon is cooked through and flaky.
Serve hot with extra lime wedges.
Delicious salmon recipes galore!
Planked salmon burgers
Walnut crusted salmon
Grilled salmon with caramelized onions