Greek spaghetti
Need a fresh take on the old pasta night staples? How about a delightful Greek take with tons of tomatoes, cucumbers, red onion and feta? Your tastebuds will be thanking you!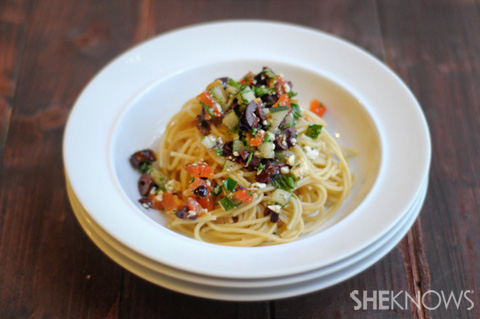 Greek spaghetti
Serves 6
Ingredients:
1 pound spaghetti
1 large tomato, seeded and chopped
1 large cucumber, seeded and chopped
1/2 cup roasted red bell pepper, chopped
1/2 large red onion, chopped
1/3 cup crumbled feta cheese
1/3 cup chopped Kalamata olives
1 tablespoon olive oil
1/2 teaspoon dried dill
Salt and pepper to taste
Directions:
Bring a large pot of water to boil and add the spaghetti.
Cook to al dente, about 8 to 10 minutes.
While the spaghetti is cooking, stir together all of the other ingredients.
When the spaghetti is done, drain and then toss with the vegetables.
Serve hot or cold.
More yummy Greek recipes
Greek-style shrimp
Fresh Greek islands pastry
Five-layer Greek dip