Veggie wraps for lunchboxes
Keep yourself and your kids feeling healthy with these colorful and delicious wraps made specifically for lunchboxes! An array of veggies brings on the color and crunch, while a smear of hummus and a slice of cheese keep it kid-friendly and satisfying.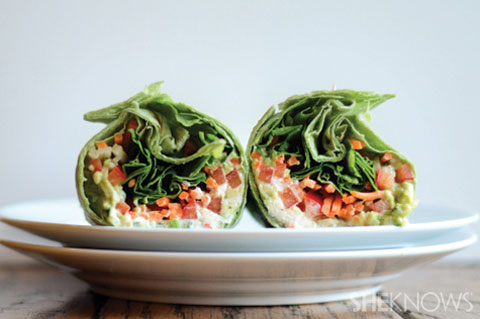 Veggie wraps for lunchboxes
Makes 2 large wraps
Ingredients:
2 (12-inch) tortillas
1/2 large cucumber, seeded and sliced thinly
1/2 cup shredded carrots
1/2 red bell pepper, seeded and sliced thinly
3 cups fresh baby spinach
1/2 cup prepared hummus, divided
2 slices cheddar cheese, cut in half
Directions:
Place each tortilla flat on an open surface.
Spread each tortilla evenly with 1/4 cup of hummus.
Lay 2 halves of a cheese slice on top of the hummus, 1 total slice of cheese per wrap.
Sprinkle half of the cucumber, carrots, red bell pepper and spinach evenly on top of the cheese of each wrap.
Roll the tortilla tightly around the veggies, cut in half and place in a plastic lunch container.
Keep cold until ready to serve.
More yummy wraps
Veggie wraps with avocado honey dressing
Spicy tofu lettuce wraps
Tuna and spinach salad sandwich wraps