Pumpkin coconut breakfast roll-ups
Breakfast can be a little blah sometimes, so change it up with these rolled pancakes! Pumpkin puree makes these moist and tender, while coconut milk and toasted coconut bring on the flavor. Fill them with a cream cheese spread and berries for a breakfast that's sure to impress!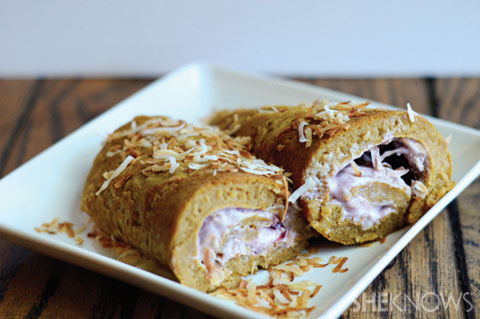 Pumpkin coconut breakfast roll-ups
Serves 6
Ingredients:
2 cups lite coconut milk
3/4 cup pumpkin puree
1/4 cup canola oil
2 whole eggs
2-1/2 cups flour
1/4 cup sugar
1 tablespoon baking powder
2 teaspoons pumpkin pie spice
1 teaspoon salt
Butter for cooking
8 ounces cream cheese
1/4 cup berry preserves
1/2 cup coconut flakes, lightly toasted
Directions:
Preheat a large skillet over medium-low heat.
In a large bowl, whisk together the coconut milk, pumpkin puree, oil and eggs until well combined.
Whisk in the flour, sugar, baking powder, pumpkin pie spice and salt until just combined.
Melt butter in the skillet.
Pour the pancakes by the quarter cup and cook for about 2 to 3 minutes per side until golden brown.
Let the pancakes cool slightly, and then spread with cream cheese and berry preserves.
Roll up and top with toasted coconut.
Serve hot.
More unforgettable pancake recipes
Banana pistachio pancakes with Marsala syrup
Puff the magic pancakes
Lemon pancakes