Zucchini & tomato frittata
Zucchini and tomatoes are abundant in the summer, so use them wisely in a delicious frittata that can be served for breakfast, lunch or dinner!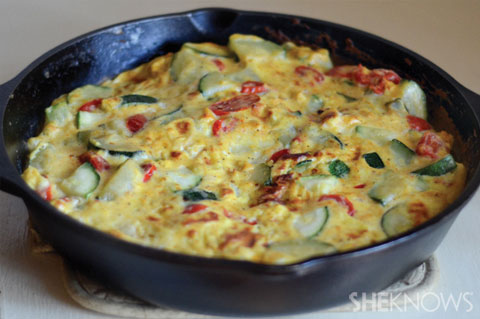 Zucchini & tomato frittata
Serves 4
Ingredients:
6 large eggs
4 ounces goat cheese
1 teaspoon salt
1/2 teaspoon pepper
1/2 teaspoon garlic powder
2 cups chopped fresh zucchini
1 cup sliced fresh cherry tomatoes
2 tablespoons olive oil
Directions:
Preheat oven to broil.
Heat a large oven-safe skillet over medium heat.
Add the oil, zucchini and tomatoes and saute over medium heat until tender, about 5 to 8 minutes.
Whisk together the eggs, goat cheese, salt, pepper and garlic powder until well incorporated.
After the vegetables have sauteed, spread them in an even layer in the skillet. Carefully pour the egg mixture on top.
Stirring 2 times, cook the eggs until almost done, and then spread in an even layer and place in the hot oven.
Broil until the eggs are just set.
Let cool for about 10 minutes before serving.
Serve warm.
More exciting frittata recipes
Kale frittata
Mushroom, goat cheese and thyme frittata
Sun-dried tomato frittata