Rosemary and sharp cheddar beer bread
Rosemary and sharp cheddar beer bread makes a pub-style sidekick feel sophisticated! Fresh rosemary and sharp white cheddar bring both spice and saltiness to the sweet beer bread.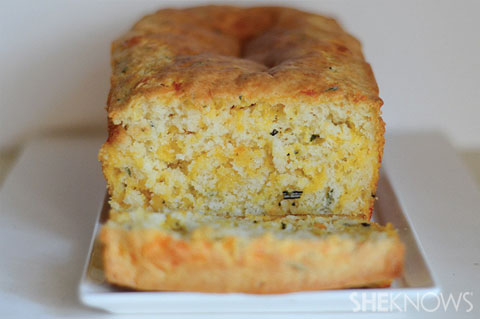 Rosemary and sharp cheddar beer bread
Makes 1 (8 x 4-inch) loaf
Ingredients:
2-1/2 cups flour
3 tablespoons sugar
1 tablespoon baking powder
1/2 teaspoon baking soda
1/2 teaspoon salt
8 ounces very sharp cheddar cheese, grated
2 tablespoons fresh rosemary, chopped
12 ounces lager-style beer
Directions:
Preheat oven to 400 degrees F.
Spray an 8 x 4-inch loaf pan with nonstick spray. Set aside.
In a large bowl, whisk together the flour, sugar, baking powder, baking soda and salt.
Fold in the cheese and rosemary.
Pour in the beer and gently fold everything together just until combined.
Pour the batter into the prepared loaf pan and bake at 400 degrees F for 45-50 minutes or until a toothpick inserted comes out clean.
Let cool for about 10 minutes before removing from the pan.
Serve warm or at room temperature.
More fun beer bread recipes
Savory beer bread
Simple beer bread
Whole wheat pumpkin beer bread