Peach and tomato salsa
Peach and tomato salsa is a beautiful way to pair two of summer's best fruits for the perfect blend of sweet and spicy. Be sure to serve with lightly salted tortilla chips!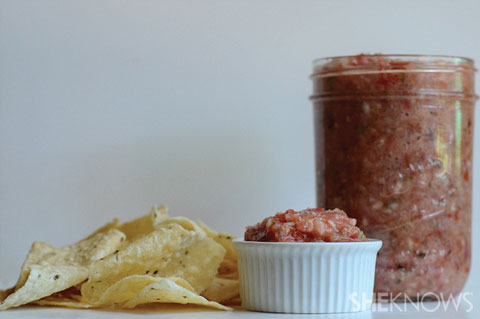 Peach tomato salsa
Makes 2 pints
Ingredients:
4 large red tomatoes, washed and roughly chopped
4 large yellow peaches, washed and skins removed, roughly chopped
1 medium red onion, roughly chopped
3 cloves fresh garlic, minced
2 whole jalapeno peppers, seeded and roughly chopped
2 tablespoons chopped cilantro
1 teaspoon salt
Directions:
Place all ingredients in a food processor.
Pulse 8-10 times, or until the salsa is the consistency desired.
Refrigerate for about an hour before serving.
More sweet and savory recipes for peaches
Jicama peach salad
Curried peach and shrimp salad
Peach cold slaw