Buffalo chicken tostadas
Buffalo chicken tostadas bring the heat and the fun! Crisp corn tortillas are topped with a few beans, spicy Buffalo chicken, scallions and blue cheese for a fun new twist on dinner!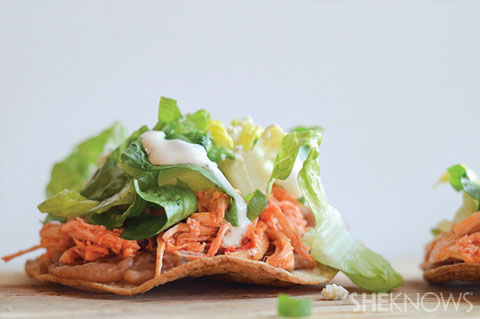 Buffalo chicken tostadas
Makes 8 tostadas
Ingredients:
8 store-bought tostada shells
4 boneless, skinless chicken breasts
4 cups chicken stock
1 cup refried beans
1 cup Buffalo hot sauce
2 cups chopped romaine lettuce
1/3 cup blue cheese crumbles
1/4 cup chopped scallions
Ranch dressing (optional)
Directions:
Bring the chicken stock to a boil in a large stock pot over medium heat.
Carefully place the chicken breasts in the stock and simmer for about 25 minutes until the chicken is cooked all the way through.
Drain the chicken breasts and place back in the hot pot.
Using 2 forks, shred the chicken into bite-size pieces.
Preheat the oven to 350 degrees F.
Place the tostada shells on a baking sheet and bake for about 3-5 minutes to warm them and crisp them up.
While the shells are heating, pour the Buffalo sauce in with the chicken and stir to combine.
To build the tostadas, spread each shell with refried beans.
Layer on the shredded Buffalo chicken.
Top the chicken with chopped lettuce, scallions and blue cheese crumbles. Drizzle with ranch dressing if desired.
More mouthwatering tostada recipes
Scrambled egg breakfast tostadas
Pulled pork tostadas
Shrimp ceviche tostadas