Creamy cilantro dressing for fajita salad
Creamy cilantro dressing for fajita salad makes salad time fun again! Cilantro, lime, garlic and a few other special ingredients are sure to bump up any salad, but pair perfectly with fajita grilled meat and veggies!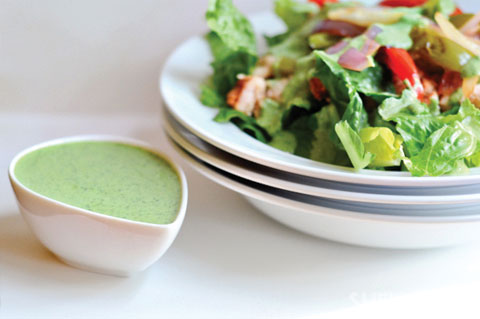 Creamy cilantro salad dressing
Makes around 8 servings
Ingredients:
1 bunch cilantro, roughly chopped
1 (6 ounce) container nonfat Greek yogurt
Juice of 1 lime
3 cloves garlic, minced
1/2 teaspoon salt
1/2 teaspoon pepper
Directions:
Combine all ingredients in a high-speed blender in the following order: yogurt, lime juice, garlic, cilantro, salt and pepper.
Blend on high speed until completely blended, stopping to scrape down the sides as needed.
Serve cold with fajita salad.
More fantastic salad dressing recipes
Avocado, lemon and pepper salad dressing
South African salad dressing
Miso salad dressing