Sweet and spicy Thai slaw
Sweet and spicy Thai slaw takes all of the flavors of delicious sweet and spicy Thai food and infuses them into a healthy slaw full of Napa cabbage, shaved carrots and a little green onion.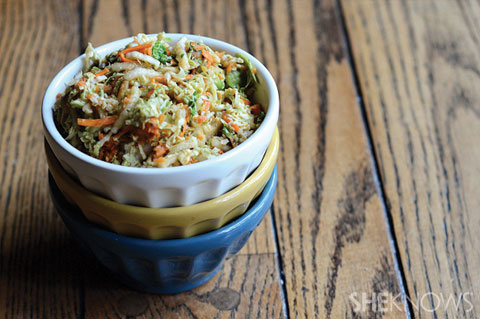 Sweet and spicy Thai slaw
Serves 8-10
Ingredients:
1 large head Napa cabbage, cleaned and shredded thinly
1-1/2 cups shredded carrot
1-1/2 cups shredded cucumber
1/2 cup chopped green onion
1/4 cup rice wine vinegar
1/4 cup low-sodium soy sauce
2 tablespoons toasted sesame oil
1 tablespoon canola oil
1 tablespoon brown sugar
1 tablespoon Sriracha sauce
1 tablespoon creamy peanut butter
1 tablespoon fish sauce
1 teaspoon red pepper flakes
1 cup combination basil, cilantro and mint leaves
Directions:
In a large bowl toss together the cabbage, carrots, cucumbers and green onions until everything is well distributed.
In the bowl of a food processor combine all other ingredients.
Pulse to combine slightly, then process until everything is combined and completely emulsified.
Pour the dressing over the cabbage mixture and toss to coat.
Let sit at room temperature for about 10 minutes before serving.
More addictive slaw recipes
Oriental chicken slaw
Shredded veggie summer slaw
Creamy and light broccoli slaw