Deep dish pizza pie
Deep dish pizza pie can be made in the same amount of time it would take to have a pizza delivered and at half the cost! Two layers of chewy pizza dough envelope your favorite toppings with a side of savory tomato sauce.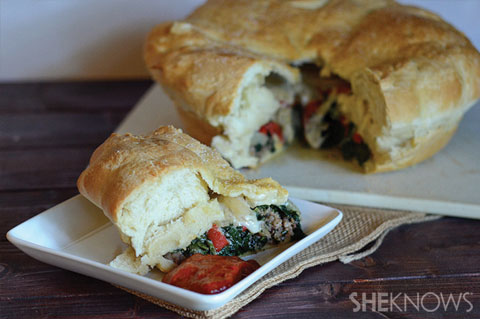 Deep dish pizza pie
Serves 6
Ingredients:
1 pound fresh pizza dough
1 pound Italian sausage, browned and cooked through
1 cup frozen chopped spinach, thawed with as much liquid removed as possible
1/2 cup chopped roasted red bell peppers
1/2 cup sauteed sliced onion
1 cup mozzarella cheese
1/4 cup Parmesan cheese, grated
Marinara sauce of choice (optional)
Directions:
Preheat oven to 450 degrees F.
Divide the pizza dough in half and roll the dough out until it is about 10 inches in diameter on all sides.
Spray a 9-inch pie pan with nonstick spray and lay one of the pizza crusts inside, pressing the dough into the edges.
Sprinkle with half of the mozzarella cheese.
Evenly sprinkle the browned sausage over the cheese.
Evenly sprinkle the chopped spinach over the sausage.
Evenly sprinkle the red peppers over the spinach.
Evenly sprinkle the sauteed onion over the red pepper.
Sprinkle with the remaining mozzarella cheese.
Cover the filling with the other piece of pizza dough, rolling the edges of both pieces of dough together to form an edge to the pizza.
Bake for 20 minutes, until the dough is golden brown.
Let the pizza sit for about 5 minutes before cutting into it.
Serve hot with marinara sauce and grated Parmesan cheese.
More deep-dish delights!
Garden skillet pizza
Italian beef pizza
Deep-dish pizza quiche