Mustard glazed grilled chicken breasts
Mustard glazed grilled chicken breasts are a simple, healthy and delicious meal that the whole family can enjoy. Two different types of mustard bring on the flavor, and the caramelization from the grill makes for the best and juiciest chicken you'll have all summer!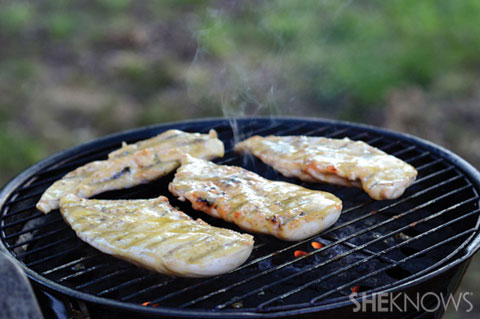 Mustard glazed grilled chicken breasts
Serves 4
Ingredients:
4 boneless, skinless chicken breasts
2 tablespoons Dijon mustard
2 tablespoons coarse ground mustard
2 tablespoons olive oil
1 tablespoon lemon juice
1 tablespoon honey
1 teaspoon salt
1 teaspoon pepper
1 teaspoon garlic powder
Directions:
Preheat grill over medium heat for about 5 minutes and brush to remove any old food.
Whisk together the Dijon and coarse mustards, the olive oil, lemon juice, honey, salt, pepper and garlic powder until smooth.
Brush lightly over the chicken breasts.
Grill the chicken breasts for about 5 to 7 minutes per side until done.
Serve hot with extra clean mustard sauce for dipping.
More wonderful grilled chicken options
Honey chipotle and lime grilled chicken kebabs
Asian grilled chicken
Grilled honey balsamic chicken with red onion plum sauce