White cheddar baked sweet potato gratin
White cheddar baked sweet potato gratin means layers of perfectly sliced sweet potatoes between layers of yummy white cheddar bechamel sauce. Make this as a main course for a vegetarian meal, or serve alongside any family dinner!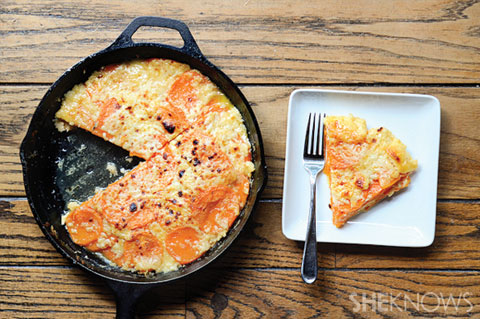 White cheddar baked sweet potato gratin
Serves 6
Ingredients:
2 pounds sweet potatoes
3 tablespoons butter, divided
2 tablespoons flour
2 cups milk
2 cups grated sharp white cheddar
1 teaspoon salt
1 teaspoon pepper
1/4 teaspoon nutmeg
1/4 teaspoon cayenne pepper
Directions:
Preheat oven to 400 degrees F.
Peel the sweet potatoes and slice into very thin medallions. It is best to use a mandolin for this if available.
Melt 2 tablespoons of butter in a large saucepan and whisk in the flour.
Let the butter and flour cook together for about 30 seconds.
Whisk in the milk and continue whisking until there are lumps of flour.
Season with salt, pepper, nutmeg and cayenne pepper and allow to cook over low heat until just thick enough to coat the back of a spoon.
Remove from heat.
Butter a 10-inch cast iron skillet with the remaining tablespoon of butter.
Layer in half of the sliced sweet potatoes.
Layer half of the cheese on top.
Create another layer of the remaining sweet potatoes.
Layer the rest of the cheese on top.
Gently and evenly pour the sauce over the entire pan, shaking gently to distribute the sauce.
Cover with foil and bake at 400 degrees F for 45 minutes.
Remove the foil and bake another 15-20 minutes until the top is golden and bubbly.
Let sit for 15 minutes before serving.
Serve hot.
More delicious sweet potato recipes
Cumin spiced baked sweet potato fries with chipotle mayo
Pulled pork stuffed sweet potatoes
Baked eggs with sweet potatoes and Gorgonzola