Baked chicken and cauliflower with almonds
Baked chicken, cauliflower and almonds is a one-dish wonder for almost any diet. Seared chicken makes a fabulous base for fresh cauliflower to roast on top of, and a handful of almonds at the end adds crunch and texture plus nutrition!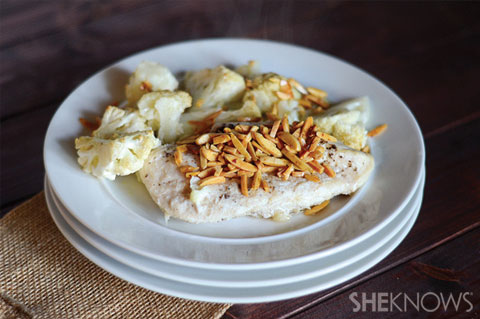 Baked chicken and cauliflower with almonds
Serves 4
Ingredients:
4 boneless, skinless chicken breasts
1 head cauliflower, cut into florets
2 tablespoons olive oil
2 teaspoons salt, divided
1 teaspoon pepper, divided
1 teaspoon garlic powder
1 teaspoon smoked paprika
1/4 cup chicken stock
1/2 cup slivered almonds
Directions:
Preheat oven to 400 degrees F.
Pour the olive oil into a 9 x 13-inch pan.
Place the chicken breasts evenly across the bottom of the pan. Season with 1 teaspoon of the salt and 1/2 teaspoon of the pepper.
Place the cauliflower florets over the chicken breasts and season with the remaining salt and pepper, garlic powder and paprika.
Pour the chicken stock evenly over the cauliflower.
Bake for 30 to 45 minutes until the chicken is cooked through.
During the last 10 minutes of cooking, sprinkle the almonds on top so that they can toast in the oven with the chicken and cauliflower.
Serve hot.
More exciting cauliflower recipes
Cauliflower polonaise
Roasted cauliflower farfalle
Cauliflower quiche