Watermelon gazpacho
Looking for something cool, sweet and refreshing? Enter watermelon gazpacho! This cold soup is not only filled with nutritious summer fare, but the combination of sweet and spicy is sure to satisfy as either an appetizer, side dish or main course.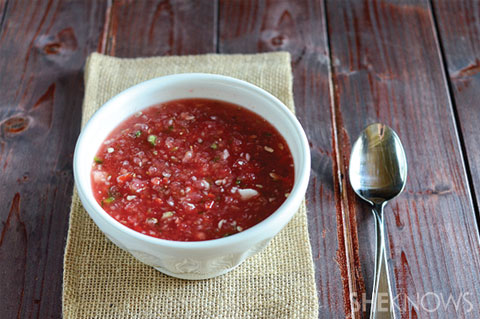 Watermelon gazpacho
Serves 8
Ingredients:
3 cups fresh watermelon
1 whole cucumber, peeled, seeded and chopped
1 whole jalapeno, roughly chopped
1 cup chopped red onion
1 tablespoon red wine vinegar
Salt and pepper to taste
Directions:
Working in batches, combine the ingredients in a food processor and process until almost smooth.
Once all of the ingredients are processed, combine in a large bowl and stir.
Serve chilled.
More refreshing gazpacho recipes
Gazpacho with shrimp
Green gazpacho
Roasted asparagus and garlic gazpacho