Mushroom kebabs with onion sauce
Mushroom kebabs with onion sauce are the vegetarian's answer to meat. Roasted mushrooms and a fragrant onion sauce give so much flavor and texture that no one will ever miss meat!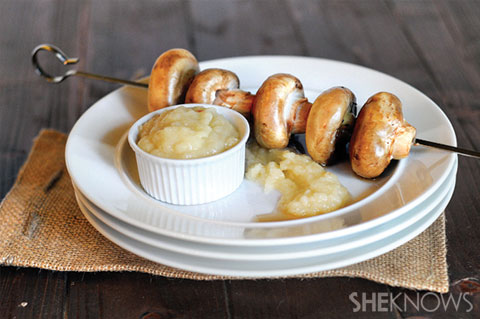 Mushroom kebabs with onion sauce
Serves 2
Ingredients:
1 large sweet onion
4 tablespoons olive oil, divided
1/4 cup vegetable stock
1 pound cremini or white mushrooms, washed and trimmed
Salt and pepper to taste
Directions:
Preheat oven to 375 degrees F.
Slice onion into very thin slices and toss with 2 tablespoons of olive oil.
Spread on a baking sheet in 1 even layer.
Roast at 375 degrees F for 30 minutes until the onions are soft and just starting to caramelize slightly.
Pour the onions into a food processor with the vegetable stock and process until smooth.
Season with salt and pepper as desired.
Heat a large skillet over medium heat.
Skewer the mushrooms equally on 4 metal skewers, evenly spacing for even cooking.
Brush the mushrooms with the remaining olive oil.
Place the mushroom kebabs in the hot skillet, allowing them to cook for about 2 minutes on each side to caramelize.
Serve hot with the onion sauce.
More fabulous mushroom recipes
Pasta with cremini mushrooms
Spinach and spicy sausage stuffed mushrooms
Poached eggs with mushrooms and garlic