Seared scallops over pasta with avocado pesto
Seared scallops over pasta with avocado pesto means a romantic weeknight supper for a date night in or family dinner alike!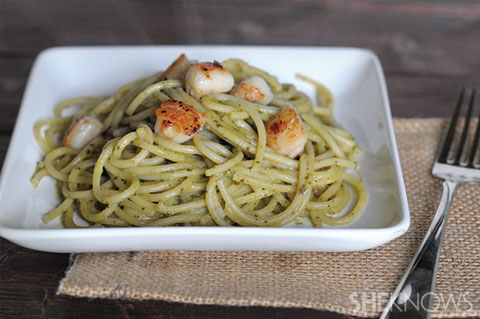 Seared scallops over pasta with avocado pesto
Serves 4
Ingredients:
1 pound spaghetti
1 pound fresh bay scallops
1 tablespoon olive oil
Salt and pepper to taste
1/4 cup prepared store-bought basil pesto
1 whole ripe avocado
Parmesan cheese (optional garnish)
Directions:
Bring a large pot of water to boil.
Add the pasta and cook according to package directions for al dente, about 8-10 minutes.
Drain and reserve about 1/4 cup of the cooking water.
Pat the scallops completely dry and season 1 side with salt and pepper.
Heat a large pan over medium heat.
Add the olive oil.
Place the scallops seasoned-side-down and let them cook for about 3-4 minutes.
Do not move them yet; you want to make sure they get a nice sear.
Season the other side with salt and pepper.
When the first side is a golden brown color, turn the scallops and allow to cook another 3-4 minutes until done.
Allow them to rest on a plate for a few minutes before serving.
In a large bowl, mash together the pesto and avocado until completely incorporated and not lumpy. A food processor is also a good option for this.
Once the pasta is done and the pesto is made, stir the 2 together with a little of the reserved cooking liquid to help create a sauce.
Serve hot with the seared scallops on top and garnish with Parmesan cheese if using.
More romantic scallop recipes
Skewered scallops
Peach bourbon BBQ scallops
Fried scallops with Parmesan topping