Vegan sweet potato cookies
Vegan sweet potato cookies are tender, crispy, moist and completely healthy. Eat them with meals or as a snack — you'll get all the flavor of a sweet treat without the guilt.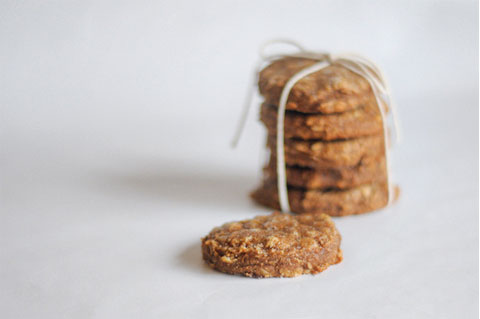 Vegan sweet potato cookies
Makes 16 large cookies
Ingredients:
1 large sweet potato, about 3 inches in diameter
3/4 cup brown sugar
1/3 cup canola oil
1 tablespoon vanilla extract
1-1/4 cups whole wheat flour
2/3 cup whole rolled oats
1-1/2 teaspoons ground cinnamon
1/2 teaspoon baking soda
1/2 teaspoon salt
Directions:
Wash the sweet potato thoroughly and wrap in foil. Place on a baking sheet and place in a cold oven.
Turn oven to 400 degrees F and set a timer for 65 minutes. The potato will be done when it is very soft to the touch.
Remove from oven and set aside to cool for about 10 minutes.
Reduce oven temperature to 350 degrees F.
Carefully remove the skin of the potato and break up the flesh in a large bowl.
Using a whisk, vigorously whisk the sweet potato until smooth.
Whisk in the brown sugar, canola oil and vanilla extract.
Using a spatula, fold in the flour, oats, cinnamon, baking soda and salt.
Scoop the cookies out using a 1/4-cup ice cream scoop and place about 1 inch apart on a baking sheet lined with parchment paper.
Wet your fingers slightly and press the tops of the cookies down.
Bake at 350 degrees F for 25-30 minutes until the cookies are golden brown on the bottom.
Let cool completely on the baking sheet before removing.
Serve at room temperature.
More yummy vegan cookies
Vegan chocolate almond cookies
Vegan mint chocolate chip cookies
Peanut butter minus cookies