Kid-friendly painted heart sugar cookies
Painted heart sugar cookies are a fun way to include the entire family in making delicious desserts to share with friends! The simple sugar cookie recipe tastes fabulous, and the colorful painted frosting allows creativity to shine!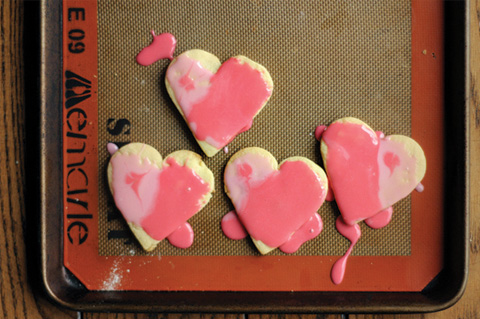 Kid-friendly painted heart sugar cookies
Makes 24 cookies
Ingredients:
1 cup granulated sugar
1 cup salted sweet cream butter, at room temperature
2 whole eggs
1 tablespoon vanilla extract
3 cups all-purpose flour
2 teaspoons baking powder
1/2 teaspoon salt
3 cups powdered sugar
1/4 cup milk, divided
Red food coloring
Directions:
Preheat oven to 350 degrees F. Line a baking sheet with parchment paper and set aside.
In a large bowl, cream together the butter and sugar using an electric mixer until light and fluffy.
Mix in the eggs and vanilla until completely incorporated.
Sift together the flour, baking powder and salt.
Slowly incorporate the dry ingredients into the wet mixture until just combined.
Turn the dough out onto a floured countertop and press together with your hands. Pat into a flat disk.
Flour a rolling pin and roll the dough until it is about a 1/4-inch thick.
Using a heart-shaped cookie cutter, cut out as many hearts as possible and place the cutouts on the prepared baking sheet.
Press dough together and repeat until all of the dough has been cut out.
Place the cookie sheet in the freezer for 10 minutes.
Bake for 8-12 minutes until the bottoms are just brown around the edges.
Let cool completely before frosting.
For the frosting, whisk together the powdered sugar and milk, one tablespoon at a time, until it reaches the consistency of a thick paint.
Add food coloring to reach desired color pink or red and whisk until completely combined.
Using paint brushes, let kids and adults paint their heart cookies as desired!
More yummy Valentine's Day recipes
Valentine's Day hot chocolate shots
Valentine's Day light tiramisu
Chocolate ganache truffles