Chocolate covered cherry pound cake with ganache
Whether you're celebrating with the entire family or going on a cozy date with your significant other, Valentine's Day warrants a decadent and delicious dessert filled with chocolate. Chocolate covered cherry pound cake with ganache takes the traditional Valentine's Day candy to the next level!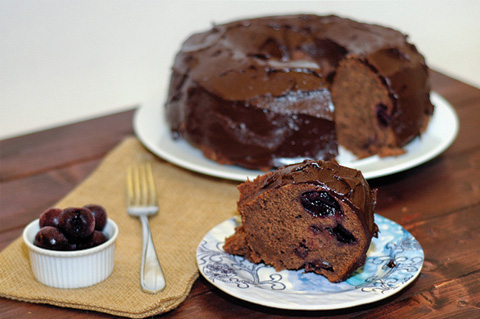 Chocolate covered cherry pound cake with ganache
Makes 1 (12 inch) Bundt cake
Ingredients:
3 sticks butter (1-1/2 cups), at room temperature
2-1/2 cups granulated sugar
4 whole eggs
1 tablespoon vanilla extract
1 cup plain nonfat yogurt
1/4 cup milk
3 cups and 1 tablespoon flour, divided
1/2 teaspoon baking powder
1/2 teaspoon baking soda
1/2 teaspoon salt
2 cups frozen or fresh cherries, pitted and cut into halves
2 cups semisweet chocolate chips
2 tablespoons heavy cream
1 teaspoon honey
Directions:
Preheat oven to 325 degrees F. Spray a 12-inch Bundt pan with nonstick spray and lightly dust with flour. Set aside.
In a large bowl, cream together the butter and sugar until light and fluffy.
Add the eggs, one at a time, and mix into the butter and sugar mixture until fully incorporated.
Mix in the yogurt, milk and vanilla extract until completely combined.
Gently fold in 3 cups of flour, baking powder, baking soda and salt until just combined.
Toss the cherry halves with 1 tablespoon of flour, and then gently fold into the cake batter.
Evenly fill the Bundt cake pan with the cake batter, spreading the top to make an even layer.
Bake at for 60-75 minutes until a toothpick inserted comes out clean.
Let cool completely before unmolding.
To unmold the cake, gently run the tip of a knife around the edges of the cake. Place a plate on top of the cake pan. Gently invert the cake; it should come right out onto the plate.
For the ganache, stir the chocolate chips, cream and honey together over a double boiler.
Let it melt, stirring gently, until completely combined.
Remove the double boiler from the heat and spread the ganache evenly over the cake.
Serve at room temperature.
More fabulous chocolate cakes
Every occasion chocolate cake
Vegan German chocolate cake
Chocolate chocolate cake in a crock pot