Baked pumpkin French toast
Enjoy more of your weekend by preparing this home-run French toast bake. Canned pumpkin and traditional pumpkin pie spices are sure to make your family feel cozy and warm around the breakfast table. Serve hot with maple syrup, powdered sugar or a big dollop of whipped cream.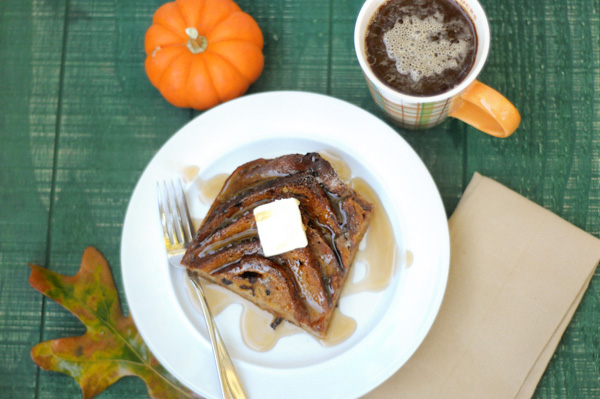 Baked pumpkin French toast
Serves 8
Ingredients:
1 (16 ounce) loaf cinnamon raisin bread
8 whole eggs
1-1/2 cups milk
1 cup pumpkin puree
3/4 cup granulated sugar, divided
1/2 cup dark brown sugar
1 tablespoon vanilla extract
1-1/2 teaspoon cinnamon
1-1/2 teaspoon ground ginger
1/2 teaspoon cardamom
1/4 teaspoon allspice
1/8 teaspoon salt
8 tablespoons butter, cut into cubes
Directions:
Spray a 9 x 13-inch baking pan with nonstick spray.
Slice all of the bread, including the heels, in half diagonally. Lay the bread in the greased pan sliced-side-down.
In a large bowl whisk together the eggs, milk, pumpkin puree, 1/2 cup of granulated sugar, brown sugar, vanilla, cinnamon, ginger, cardamom, allspice and salt. Whisk until well combined and smooth.
Pour the egg mixture evenly over the arranged bread. Cover and let sit in the refrigerator overnight.
To bake the next morning, preheat your oven to 350 degrees F.
Set the French toast to bake on the counter to take the chill off.
Sprinkle the top of the French toast bake with the remaining 1/4 cup of granulated sugar.
Evenly dot the top of the bake with the cubed butter.
Bake for 40-60 minutes until puffy and golden with no remaining liquid in the pan.
Serve hot.
More French toast recipes
Peanut butter and jelly French toast
Vegan French toast
Grapefruit French toast casserole with sweet-n-citrus salsa