No-bake Nutella M&M'S cookies
Fudgy, no-bake Nutella cookies get some color (and a nice crunch) from everyone's favorite candy. Best served anywhere with friends -- these cookies will go fast!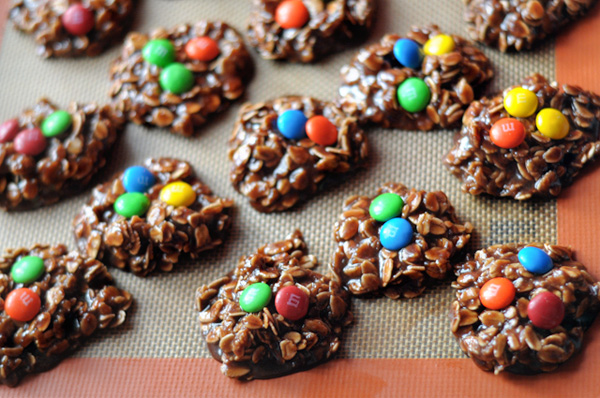 No-bake Nutella M&M'S cookies
Makes 36 cookies
Ingredients:
1 cup sugar
1 cup Nutella
1/2 cup milled flax seed
1/2 cup milk
1/4 cup flour
1/4 peanut butter
1 tablespoon vanilla extract
Pinch of salt
3 cups old-fashioned rolled oats
1 cup M&M'S candies
Directions:
Combine all ingredients (except the oats) in a large heavy-bottomed pot over low heat and whisk together.
Whisk continually over low heat for 4-5 minutes until the sugar is dissolved.
Remove from the heat and stir in the oatmeal.
Let cool for about 30 minutes, then spoon onto a baking sheet lined with parchment paper.
Sprinkle with M&M'S, being sure to get three or four on each cookie.
Let cool completely to harden before serving.
More no-bake treats
Mini no-bake brownie batter cheesecake recipe
3 Low-fat, no-bake desserts
No-bake icebox cakes