Miniature stacked carrot cakes
Eat your carrot cake without the guilt of a huge slice. These miniature stacks are beautiful, delicious and perfectly portioned to enjoy everything carrot cake has to offer.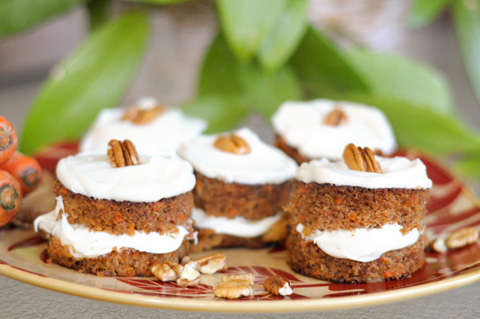 Miniature stacked carrot cakes
Makes about 10 miniature cakes
Ingredients:
1 cup canola oil
2 cups sugar
4 whole eggs
1 tablespoon vanilla extract
2-1/8 cups flour
2 teaspoons baking soda
1 teaspoon cinnamon
1/2 teaspoon salt
2 cups shredded carrots
1 (8 ounce) can crushed pineapple and juice
8 ounces cream cheese, at room temperature
8 tablespoons butter, at room temperature
2 cups powdered sugar
2 tablespoons milk
Directions:
Preheat your oven to 350 degrees F.
In a large bowl whisk together the oil, sugar, eggs and vanilla until completely incorporated and smooth.
Sift together the flour, baking soda, cinnamon and salt and gently fold into the wet ingredients until just mixed.
Fold in the carrots and pineapple until everything is combined.
Pour into a greased 9 x 13-inch pan lined with parchment paper.
Bake for 45-50 minutes until a toothpick inserted comes out clean.
Let cool completely before frosting.
For the frosting, cream together the cream cheese and butter until smooth.
Slowly beat in the powdered sugar.
Gradually add in the milk until the frosting reaches a spreadable consistency. Set aside.
To make the stacked cakes, cut out individual rounds from the large cake using a 3-1/2 inch round biscuit cutter.
Cut each round in half through the middle.
Add 2 tablespoons of frosting on top of each half and spread evenly.
Place the tops of each round onto the frosted middle.
Garnish with pecans if desired.
More individual dessert recipes
Individual chocolate pound cakes with cherry-port topping
Orange blossoms recipe
Grilled banana pudding