Spinach and feta stuffed chicken breasts
Looking for elegant and easy? This is it!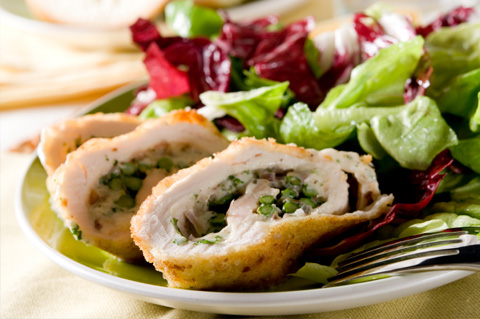 Spinach and feta stuffed chicken breasts
Serves 4-6
If the boss is coming over for dinner, no need to stress! This is an elegant looking dinner, yet it is very simple to make. In fact, the kids might enjoy helping you pound out the chicken breasts as they tell you about their day at school. An excellent way to sneak spinach into your diets, and a very easy recipe to double for guests.
Ingredients:
3 boneless skinless chicken breasts
1/2 of a (9 ounce) bag fresh spinach
3 large garlic cloves, minced
2 ounces reduced fat crumbled feta cheese (I use half of a 4-ounce container)
Salt and pepper
Olive oil
White wine
See optional add-ins**
Directions:
Lightly spray a small casserole dish with cooking spray, then set aside.
In a non-stick skillet, sauté the spinach and garlic in 1 teaspoon of olive oil. You will pack in the spinach and it wilts down to almost nothing. Season with salt and pepper, set aside to cool.
Take a large piece of parchment paper and place one chicken breast on one side of paper. Sprinkle chicken with salt and pepper on both sides, then fold the other side of the parchment paper on top of the chicken breast. Using a mallet, rolling pin or even a can of vegetables (that has been unopened), pound the chicken breast to about 1/2-inch thickness.
Unfold the parchment paper and add about 1 tablespoon of spinach and garlic mixture down the middle of the chicken breast. Sprinkle a small handful of the feta on top of the spinach.
Starting with one end of the chicken, roll it up.
Secure with toothpicks and add to your casserole dish, seam side down. Repeat with each chicken breast.
Drizzle about 1 tablespoon of olive oil on top of the chicken, then sprinkle white wine over chicken.
Bake at 375 for 40 to 45 minutes. Remove the toothpicks and slice on the diagonal.
**For a not-as-healthy option, wrap each chicken breast, after you have rolled it up, with a slice of bacon or prosciutto.
More stuffed chicken recipes
Feta stuffed chicken breasts with lemon
Goat cheese and arugula stuffed chicken breasts
Oven roasted stuffed chicken breasts