Cinnamon candy punch recipe
Need a unique mocktail recipe for your kid's birthday party, school dance or holiday gathering? Forget boring fruit punch or lame cider, make this delicious candy inspired punch, made with all fruit juices and some spicy cinnamon candies!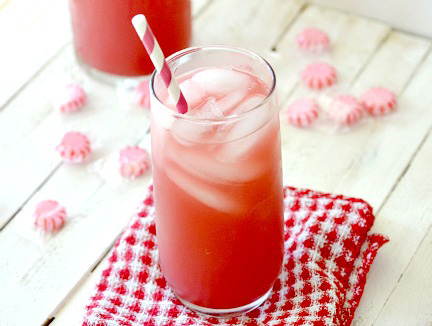 Candy apple punch recipe
Yields about 5 cups
Recipe adapted from My Recipes
If your kids don't like cinnamon, omit that flavor and choose something a little milder, like peppermint or apple! This drink is very versatile and can be served all year round. For the juices, buy only real fruit juices with low sugar to make this drink a bit healthier for your little ones. For an adult-friendly version, sub in your favorite vodka or rum for some of the water!
Ingredients: 
1-1/2 cups low sugar cranberry juice
1-1/2 cups low sugar apple juice
1-1/2 cups cold water
About 7 cinnamon candies (or mint or apple)
3 ounces low sugar lemonade (or limeade)
Fresh apple slices
Directions:
Mix juices, water and lime/lemonade in a large pitcher. Stir in cinnamon candies. Chill in the fridge for at least 4 hours, or until candies have dissolved completely.
Serve with ice and fresh apple slices.
More kid-friendly drink recipes
Refreshing summer mocktails for kids
Summer layered drink recipes
Delicious low-sugar drinks for kids