Healthy road trip snacks
'Tis the season for road trips all over the country -- and with high gas prices no one wants to spend more than necessary. By making these snacks ahead of time you can save money and time on the road, not to mention involve your children in the cooking and packing process. Pack these snacks along with some assorted fresh fruit and water for a healthier alternative to gas station grub!
Cheesy fajita spiced snack mix
Makes 18 servings
Ingredients:
2 cups oyster crackers
1-1/2 cups goldfish or other cheddar cracker
1 cup sliced almonds
3 tablespoons vegetable oil
2 teaspoons chili powder
1 teaspoon paprika
1 teaspoon garlic powder
1 teaspoon onion powder
1 teaspoon granulated sugar
1/2 teaspoon cayenne pepper
Directions:
Preheat oven to 225 degrees F. In a large bowl add the oyster crackers, goldfish and sliced almonds.
In a small bowl whisk together the oil, chili powder, paprika, garlic powder, onion powder, sugar and cayenne pepper.
Drizzle the oil mixture over the crackers and almonds and toss to coat.
Spray a large sheet pan with nonstick spray and spread the mixture in one even layer.
Bake for 20-25 minutes, stirring once halfway through, until the almonds are toasted slightly and the mixture is dry.
Let cool completely before storing in an airtight container or portioning out into quarter cup servings.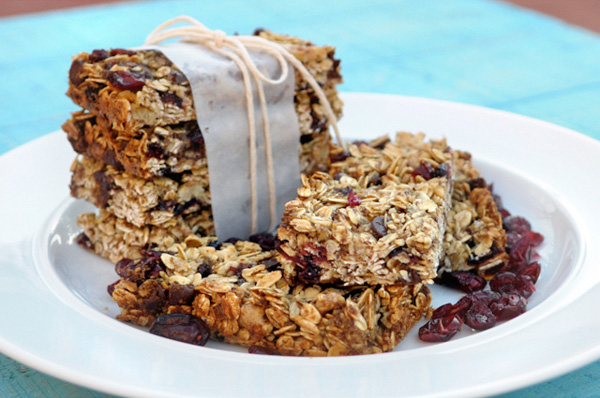 Chewy homemade granola bars
Makes 8 individual bars
Ingredients:
1-1/2 cups old-fashioned rolled oats
1/2 cup cranberries or dried fruit of choice
1/2 cup walnuts or nut of choice
1/4 cup chocolate chips
3 tablespoons milled flax seed
1/2 teaspoon kosher salt
1/4 cup maple syrup
1/4 cup honey
1/4 cup creamy peanut butter
Directions:
Preheat oven to 350 degrees F.
In a large bowl combine the oats, dried fruit, nuts, flax and salt.
In a small saucepan over medium heat bring the honey, maple syrup and peanut butter together until completely combined.
Pour the wet mixture over the dry ingredients and stir to combine.
Line an 8 x 8-inch pan with parchment paper.
Right before pouring mixture into the prepared pan, stir in the chocolate chips.
Press the oat mixture into the pan so that the layer is even on top (wetting the hands beforehand may make this easier).
Bake for 15-20 minutes until the oats are slightly browned around the edges.
Let cool completely before removing from the pan and cutting into eight even bars.
Store in an airtight container or in individual plastic bags.
More road trip food
Family road trip snacks
6 Road trip foods (kid friendly, bikini friendly!)
8 Easy-to-tote vegan travel snacks