Gluten-free double chocolate chip cookie recipe
The only thing better than a regular chocolate chip cookie is one that has double the amount of chocolate! These incredibly chewy, yet crisp, cookies are indulgent and, here's the kicker, completely gluten-free! Made with a mix of potato starch, rice flour, tapioca flour and gluten-free vanilla, these are perfect for anyone in your family suffering from Celiac disease or a gluten intolerance. Plus, those who aren't gluten intolerant will also gobble these up because they taste just like regular chocolate chip cookies. A win win for every one!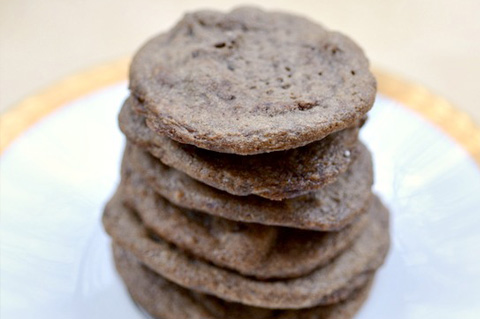 These will instantly become a huge favorite in your house, whether you have a gluten allergy or not!
Gluten-free double chocolate chip cookies
Recipe adapted from Land O'Lakes
Yields 3 dozen cookies
Ingredients: 
2 cups rice flour
2/3 cup potato starch
1/3 cup tapioca flour
1/3 cup gluten free cocoa powder
1 teaspoon xanthan gum
3/4 cup butter, softened
1/2 cup white sugar
1/2 cup brown sugar
2 whole eggs
2 teaspoons gluten free vanilla
1-1/2 cups gluten free chocolate chips
2 tablespoons milk (if batter is too dry)
Directions: 
Preheat oven to 375 degrees F. Liberally grease a cookie sheet with nonstick cooking spray. Set aside.
Cream butter and sugars in a large bowl with a handheld mixer. Add in eggs and vanilla, beat well. Reducing speed to low, slowly add the cocoa powder, flours and gum until fully combined. Stir in milk if mixture is dry. Fold in chocolate chips.
Scoop dough (using a tablespoon) onto the baking sheet and place about 1-inch apart. Bake for about 9 minutes or until browned. Let sit and cool. Enjoy!
More gluten-free recipes
Gluten-free Friday
Gluten-free party recipes
Quinoa recipes: Gluten-free and easy