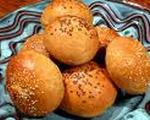 Recipe created by ChefMom on

Nov 20, 2010
View more recipes by ChefMom.
Prep: 2 hr 30 min
Cook Time: 25 min
Total: 2 hr 55 min
Serving: Makes 16 rolls
Sure, the bag of store bought rolls are an easy grab, but they won't have the resoundingly festive flavor of these whole grain, make ahead rolls. Make a double or triple batch of these and keep them on hand in the freezer for fast thawing.
Ingredients
1 1/4 cups milk
1/3 cup molasses
3 tablespoons olive oil
3/4 cup coarse ground cornmeal, plus more for sprinkling
1/2 cup warm water
1 package active dry yeast (about 2 1/4 teaspoons)
4 1/4 cups whole wheat white flour, plus more if needed
1 1/4 cups dried currants
1 1/2 teaspoons fennel seeds, plus more for sprinkling
1 teaspoon salt
1 large egg white, beaten, for brushing
Directions
Combine milk, molasses, and 3 tablespoons oil in a medium saucepan; bring to a boil and transfer to a large bowl. Stir in cornmeal and let stand until an instant-read thermometer registers 115 degrees F.
Place water in a small bowl and sprinkle yeast on top; let stand until the yeast dissolves and looks foamy, about 5 minutes. Stir the yeast into the cornmeal mixture; using a wooden spoon, gradually stir flour, currants, fennel seed, and salt into the cornmeal mixture until the dough begins to come together but still looks dry.
Turn the dough out onto a lightly floured surface and knead until smooth, adding a bit more flour by the tablespoonful if needed to prevent sticking, about 10 minutes. Form the dough into a ball.
Coat another large bowl with oil; add the dough and turn to coat; cover the bowl with plastic wrap and let the dough rise in a warm, draft free place until almost doubled, about 1 1/2 hours. Use your fist to gently punch the dough down.
Coat a 9 x 13-inch baking dish with cooking spray. Shape the dough into an 18-inch long log and cut into 18 equal pieces. Working with one piece at a time, gather and pinch the edges together, shaping it into a rough ball. Place each ball, pinched-side down into baking dish. Cover with plastic wrap. Let rise for 1 hour.
Preheat oven to 400 degrees F. Brush the tops of the rolls with egg white (you'll have some left over). Sprinkle with cornmeal and fennel seeds, if desired. Place the rolls in the oven and immediately reduce heat to 350 degrees F. Bake for 25 minutes. Let cool in the pan for 10 minutes. Turn out onto a wire rack and let cool completely.
Place rolls on a baking sheet and freeze just until firm. Transfer to a freezer bag and freeze. To reheat, let rolls thaw at room temperature for 1 hour then place in a baking dish and heat in the oven at 350 degrees F for 10 minutes. To serve at room temperature, simply let rolls thaw at room temperature.
---