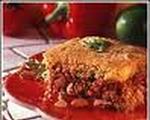 Recipe created by ChefMom on

Nov 24, 2010
View more recipes by ChefMom.
Prep: –
Cook Time: 35 min
Total: 35 min
Serving: 6-8 People
Try this recipe for vegetarian tamale pie tonight. Your family will love it!
Ingredients
2 tablespoons olive oil
1/2 onion, chopped
Salt and freshly ground black pepper
1 teaspoon ground cumin
1 teaspoon ground coriander
1 teaspoon dried oregano
2 cloves garlic, minced
2 tablespoons grated lime zest
2 green onions, chopped
1, 15-ounce can diced tomatoes
1, 8-ounce can diced green chilies
2 cups sliced black olives
3 cups water
1 cup coarse cornmeal
1 teaspoon paprika
1 cup corn kernels
3/4 cup shredded Mexican blend cheese
Directions
Preheat oven to 350 degrees F. Spray a 11 x 7-inch baking dish with cooking spray and set aside.
Heat olive oil in a large skillet over medium high heat. Add onion and a little salt and pepper. Cook, stirring often, until onions are softened. Stir in cumin, coriander, oregano, and garlic, cooking for 1 minute.
Stir in lime zest and green onions, cooking for 1 minute. Add tomatoes, chilies and olives, stirring to combine. Cook until heated through. Reduce heat to low and keep warm.
Meanwhile, bring water to a boil in a medium saucepan. Add cornmeal and season with salt and pepper. Whisk continually until mixture starts to thicken. Add paprika and corn and continue to whisk until cornmeal has a thick oatmeal consistency. Stir in cheese. Remove from heat.
Spoon vegetable mixture into prepared baking dish, spreading evenly. Pour cornmeal mixture over top and spread evenly to cover well.
Bake for 30 minutes, or until cornbread topping is set. Cool completely on a wire rack.
---