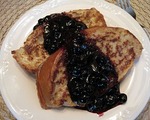 Recipe created by ChefMom on

Jan 9, 2011
View more recipes by ChefMom.
Prep: 10 min
Cook Time: 30 min
Total: 40 min
Serving: 6-8
This french toast recipe is better than Room Service with a unique blueberry topping that will delight your taste buds. The recipe can be made with a fresh baguette or one that is stale, making it a great way to use up fresh bread (and it is way yummier than croutons). It can also be frozen and warmed up on a cookie sheet--making it a make ahead go-to recipe for special occasions or for the everyday.
Ingredients
1 french baguette, sliced to about 1/4 "
1 1/2 cups milk
3 eggs, beaten until frothy
1 tablespoon sugar
1/2 tablespoon nutmeg
1 orange--the juice, plus zest
Vegetable oil for frying
1 pint fresh blueberries
Generous handful of fresh mint leaves, packed into a tea ball or other tea infuser
1/4 cup sugar
1 lime--the juice, plus zest
Directions
Place blueberries, sugar, lime juice and zest in a saucepan. Add in mint leaves packed into tea infuser.
Bring blueberry mixture to a boil. Reduce heat, simmer on low-medium for about 10-15 minutes.
While blueberries are cooking, heat about 1/4 inch of vegetable oil in a large skillet over medium-high heat.
Combine milk, eggs, sugar, nutmeg, orange juice and zest in dish. Dip bread slices in egg mixture. Allow excess egg to drip off slices.
Fry baguette slices on both sides until golden brown, approximately 2-3 minutes.
Remove tea infuser from blueberries. Gently mash blueberries with a fork or potato masher. Leave some whole berries.
Serve minted blueberries with french toast.
Store left over minted blueberries in refrigerator for up to one week or in freezer for 2 months. Left over french toast may also be frozen for up to 2 months.
---