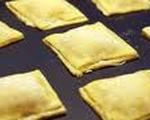 Recipe created by ChefMom on

Nov 20, 2010
View more recipes by ChefMom.
Prep: –
Cook Time: 40 min
Total: 40 min
Serving: 6-8 People
This Thanksgiving, pump up your meal with this recipe for pumpkin ravioli and maple caramel sauce.
Ingredients
1 3/4 cup sugar, divided
1 1/2 teaspoon ground cinnamon
1 teaspoon ground cloves
1 teaspoon ground allspice
1/2 teaspoon ground ginger
1/2 teaspoon of vanilla extract
1/2 teaspoon salt
3 cups pumpkin purée
1 1/2 cans evaporated milk
Sheets of fresh pasta or packaged wonton wrappers
2 cups whipping cream
1/2 cup pure maple syrup
1/4 teaspoon maple flavoring
1 tablespoon butter
Directions
Combine 1 cup sugar, cinnamon, cloves, allspice, ginger, vanilla, salt, pumpkin purée, and evaporated milk.
Using sheets of pasta, or wonton wrappers, make raviolis using the pumpkin mix as the ravioli filling (as you would make other types of ravioli).
Combine cream, remaining sugar, and maple syrup in heavy medium saucepan. Stir over medium heat until sugar dissolves.
Increase heat and bring to boil; reduce heat to medium-low and simmer, whisking occasionally, until caramel colored and reduced to 1 3/4 cups, about 35 minutes. Mix in maple flavoring.
Cool slightly. Meanwhile, in a sauté pan over medium-high heat, melt the butter. Lightly fry the raviolis until the pasta is crisp and lightly browned (be extremely gentle if you used wonton wrappers). Serve several raviolis drizzled with the caramel sauce.
---