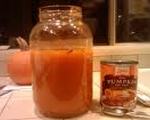 Recipe created by ChefMom on

Nov 23, 2010
View more recipes by ChefMom.
Prep: –
Cook Time: 10 min
Total: 10 min
Serving: About 2 cups
This liqueur gets better with a couple of weeks of aging in the refrigerator.
Ingredients
1 to 2 pumpkins
1/4 teaspoon ground ginger
1/4 teaspoon ground cloves
1/4 teaspoon ground allspice
Pinch ground nutmeg
2 cinnamon sticks
1 cup brown sugar
1 cup white sugar
1 tablespoon vanilla extract
1 1/2 cups 100 proof vodka
Directions
Peel and seed the pumpkin and cut it into chunks. Place chunks in a large microwave-safe bowl, cover and microwave for 4 to 6 minutes.
Press the chunks through a juicer, including any liquid released during the heating, or purée in a blender or food processor. You'll need about 4 cups of pumpkin juice.
Place 4 cups pumpkin juice into a medium saucepan with the spices; bring the juice to a boil, then reduce heat and let simmer until the juice is reduced by half.
Strain the juice to remove solids; wipe out the saucepan.
Return the juice to the saucepan and add the sugars; bring to a boil again, stirring to be sure the sugars are completely dissolved.
Remove from heat and let cool completely.
Stir the vanilla and vodka into the cooled, concentrated pumpkin juice. Store in the refrigerator until ready to use.
---