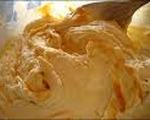 Recipe created by ChefMom on

Nov 20, 2010
View more recipes by ChefMom.
Prep: –
Cook Time: 12 hr
Total: 12 hr
Serving: 2-4 People
Here's a cool Thanksgiving dessert your family will love—pumpkin ice cream!
Ingredients
1 1/2 cups whole milk
1 cup heavy cream
1/2 cup sugar
1 teaspoon freshly grated ginger
1/2 teaspoon ground cinnamon
1 cinnamon stick
1/2 teaspoon freshly grated nutmeg
1/4 teaspoon kosher salt
5 large egg yolks
1/4 cup packed dark brown sugar
1/2 teaspoon vanilla extract 2 teaspoons brandy (optional)
3/4 cup pumpkin purée
Directions
In a medium saucepan, combine milk, cream, granulated sugar, ginger, ground cinnamon, cinnamon stick, nutmeg, and salt; bring to a simmer over medium heat.
Whisk the egg yolks in a separate bowl; slowly whisk about half of the milk mixture into the egg yolks, a ladle full at a time, stirring constantly.
Return the eggs and milk mixture to the saucepan and cook over low heat, stirring constantly until the mixture thickens and coats the spatula.
Immediately pour the mixture through a strainer set over a large bowl placed over an ice bath.
Mix in the brown sugar and stir until cool.
Chill overnight the refrigerator.
Whisk in the vanilla, brandy, and pumpkin purée.
Freeze in your ice cream maker according to the manufacturer's instructions.
---