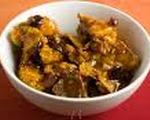 Recipe created by ChefMom on

Nov 20, 2010
View more recipes by ChefMom.
Prep: –
Cook Time: 2 hr 40 min
Total: 2 hr 40 min
Serving: 4-6 People
Make this pumpkin bread pudding recipe a day or two ahead of Thanksgiving for the best flavor.
Ingredients
3 1/4 cups plus 2 tablespoons flour
1 teaspoon baking soda
1 1/2 teaspoons baking powder
1 1/2 teaspoon salt, divided
2 1/2 teaspoons cinnamon, divided
1 teaspoon nutmeg
1/2 teaspoon ground cloves
1 cup of sugar
1 1/4 plus cup plus 1 tablespoon packed brown sugar, divided
1 cup of canola oil
5 eggs plus 1 egg yolk, divided
4 cups pumpkin purée, divided
2/3 cups of low-fat buttermilk
1 cup whole milk
1 cup half and half
1 1/2 teaspoons pumpkin pie spice
1 1/2 teaspoons vanilla extract
2 teaspoon finely grated orange zest
1/2 cup golden raisins (optional)
Directions
Preheat the oven to 350 degrees F. Grease and flour three loaf pans.
Whisk together flour, baking powder, baking soda, 1/2 teaspoon salt, 1 teaspoon cinnamon, nutmeg, and cloves in a large bowl.
In a separate bowl, whisk together white sugar, 1 cup brown sugar, oil, 3 lightly beaten eggs, 2 cups pumpkin, and buttermilk.
Add the wet ingredients to the dry ingredients, and mix until combined. Divide among loaf pans and bake until toothpick comes out clean, about 1 hour. Let cool completely.
With the oven still at 350 degrees F, grease a rectangular baking dish.
Cut up the pumpkin loaves into 1-inch cubes. You need enough to make about 9 to10 cups. You might have a few slices of bread left over for your own personal munching.
Toast the bread cubes in the oven until slightly browned and crisp; place in a large mixing bowl.
In another bowl, whisk together the milk, half and half, remaining pumpkin purée, 2 eggs, 1 egg yolk, pumpkin pie spice, remaining cinnamon, remaining salt, vanilla, extract, orange zest, and raisins.
Pour the custard mix over the bread and toss until well combined. Let sit for 15 minutes.
Scrape the pudding into the baking dish. Bake the pudding until the custard is set, about 35 to 40 minutes.
Cool the custard completely, cover with foil and chill overnight. Warm before serving.
---