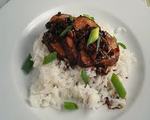 Recipe created by ChefMom on

Jan 8, 2011
View more recipes by ChefMom.
Prep: 20 min
Cook Time: 30 min
Total: 50 min
Serving: 6-8 people
Go Asian for dinner tonight with this yummy Pork Tenderloin with Asian Peanut Sauce. Peanut Butter and ginger blend nicely to glaze the tenderloin in a sweet and flavorful sauce that is irresistable. Plus, this elegant meal is ready in under an hour.
**The sauce in this recipe is also really great on chicken breast, beef sirloin strips, roast turkey, or just make the sauce and serve it with grilled vegetables and rice for a nice vegetarian option.
Ingredients
Cooking spray
3 tablespoons vegetable oil
salt and pepper
2 1 pound boneless pork tenderloins
1/2 cup chicken broth
1/2 cup creamy peanut butter
1/2 cup hoisin sauce
2 teaspoons minced ginger
2 teaspoons minced garlic
chives or green onion tops, sliced, for garnish
Directions
Sprinkle each loin with salt and pepper.
Brown on all sides in a large skillet with hot oil.
Place loin in a shallow roasting pan that has been greased with cooking spray.
Roast for 15 minutes at 375 degrees Fahrenheit.
In a small pan, briskly stir together broth, peanut butter, and hoisin sauce to create a smooth sauce.
Add ginger and garlic to sauce and set aside.
Rest loins covered with foil for about 10 minutes.
Slice and serve with sauce and garnish.
---