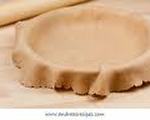 Recipe created by ChefMom on

Nov 22, 2010
View more recipes by ChefMom.
Prep: 1 hr 15 min
Cook Time: –
Total: 1 hr 15 min
Serving: Makes two pie crusts
This easy recipe for pie dough makes a double crust, top and bottom.
Ingredients
2 1/2 cups all-purpose flour
Pinch of kosher salt
2 tablespoons organic sugar
20 tablespoons European style butter, frozen
1 teaspoon apple cider vinegar, cold
Water
Directions
Measure all crust ingredients and place in the freezer for 15 minutes.
Combine flour, salt, and sugar in a food processor and pulse several times to mix. If creating the crust by hand with a pastry blender, whisk the ingredients in a large bowl until incorporated.
Break up the butter with the food processor or pastry blender.
Add the vinegar; add one tablespoon of water at a time, pulsing to incorporate, or blending with a pastry blender, until the dough begins to come together, but is still dry and you see small pieces of fat. The fat should be in very small pieces no bigger than a nickel.
Pinch some of the dough in your hand. If the dough sticks together and does not crumble in your hand, the dough is ready. If the dough does not stick to itself, add another tablespoon of water, pulse or mix, and pinch the dough together again. Repeat until the dough holds together without being overly wet. Dough should be slightly crumbly, but hold together when pinched.
Remove dough from the mixing bowl and transfer to a work surface. Divide the dough into two equal parts and gently shape into two flat, round discs. Wrap in plastic and refrigerate for at least 1 hour, or up to two days.
---