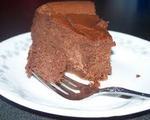 Recipe created by ChefMom on

Dec 2, 2010
View more recipes by ChefMom.
Prep: 10 min
Cook Time: 30 min
Total: 40 min
Serving: 8
Just when you thought dessert time couldn't get any better, along comes a yummy and super easy recipe for Mocha Fudge Cheesecake. Though the name sounds too rich, this cheesecake has the perfect blend of rich chocolate flavors, but is still light and creamy.
**Tip** If you don't have coffee liqueur, skip going to the store. Just take some leftover strong brewed coffee. Let it cool to room temperature and use in place of the liqueur.
***Search this site for "Chocolate Cream Topping". Smooth topping over the top of the finished cheesecake before refrigerating for a deliciously decadent variation.
Ingredients
1 tablespoon instant coffee, dry
3 tablespoons coffee liqueur
16 ounces cream cheese, softened
3/4 cup Bisquick
3/4 cup sugar
1 teaspoon vanilla
3 eggs
3 ounces semisweet baking chocolate, melted and cooled
Directions
Dissolve dry coffee in coffee liqueur; then, mix together with the remaining ingredients, stirring vigorously for 2 minutes.
Pour mixture into 9-inch, greased pie plate and bake at 350 degrees Fahrenheit for about 35 minutes.
Cool for 5 minutes then place in the refrigerator to chill for at least 3 hours.
---