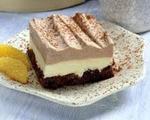 Recipe created by ChefMom on

Dec 4, 2010
View more recipes by ChefMom.
Prep: 5 hr 30 min
Cook Time: 6 min
Total: 5 hr 36 min
Serving: 15
Frozen Tiramisu Squares are an ice cream-like dessert with a delicious blend of chocolate and orange flavors. The preparation time includes a lot of refrigeration time (5 hours). While this seems daunting, it's great to do before the kids get home from school or in between chores or errands on the weekends.
Ingredients
1 cup Bisquick
1/2 cup sugar
1/3 cup baking cocoa
1 tablespoon plus 1 teaspoon instant expresso coffee, dry
1/3 cup butter, melted
16 ounces cream cheese, softened
14 ounces sweetened condensed milk
1/4 cup frozen (thawed) orange juice concentrate
1 tablespoon hot water
1/4 cup chocolate-flavored syrup
1 1/2 cups heavy cream
Directions
Create bottom layer by mixing Bisquick, sugar, 1/3 cup cocoa, 1 tablespoon coffee, and butter.
Crumble into bottom of greased 13x9-inch pan. Bake at 350 degrees Fahrenheit for 6 minutes then cool.
In a medium bowl, beat together cream cheese and milk until smooth then divide evenly into two separate bowls.
Add 1 teaspoon of coffee to hot water; blend coffee water and chocolate syrup together. Add to one bowl of cream cheese mixture. Blend juice concentrate into the other cream cheese mixture.
In a cold bowl, whip heavy cream until stiff. Divide whipped cream between two cream cheese mixtures, folding till combined.
Place chocolate mixture in the fridge with a cover. Smooth orange mix evenly over crust then freeze for 1 hour.
Use chocolate mix to create 3rd layer of the dessert and freeze again for 4 hours. Let stand 10 minutes before cutting and serving.
---